Promoting climate justice and adaptation in semi-arid Ghana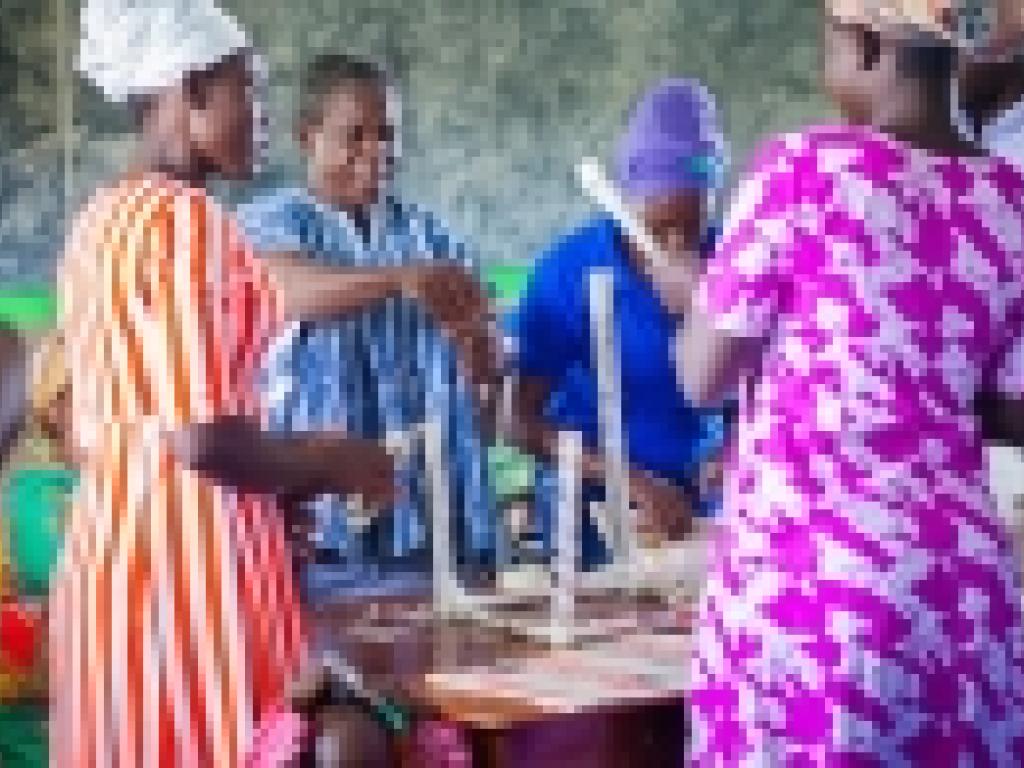 By Rahinatu Sidiki Alare and Rose Buabeng
As part of their capacity building activities in Ghana, ASSAR organised a series of workshops to strengthen women's advocacy skills to challenge the environmental issues that affect them in their communities. 
At ASSAR Ghana's first capacity building workshop for selected women group leaders, organised in January 2018, the participants were given a general understanding of advocacy. Though they identified the key environmental challenges in their communities affecting women, they lacked the necessary skills and approaches to advocate on these issues. Among several challenges, access to water, access to land and deforestation were highlighted as key challenges hindering the improved wellbeing of women.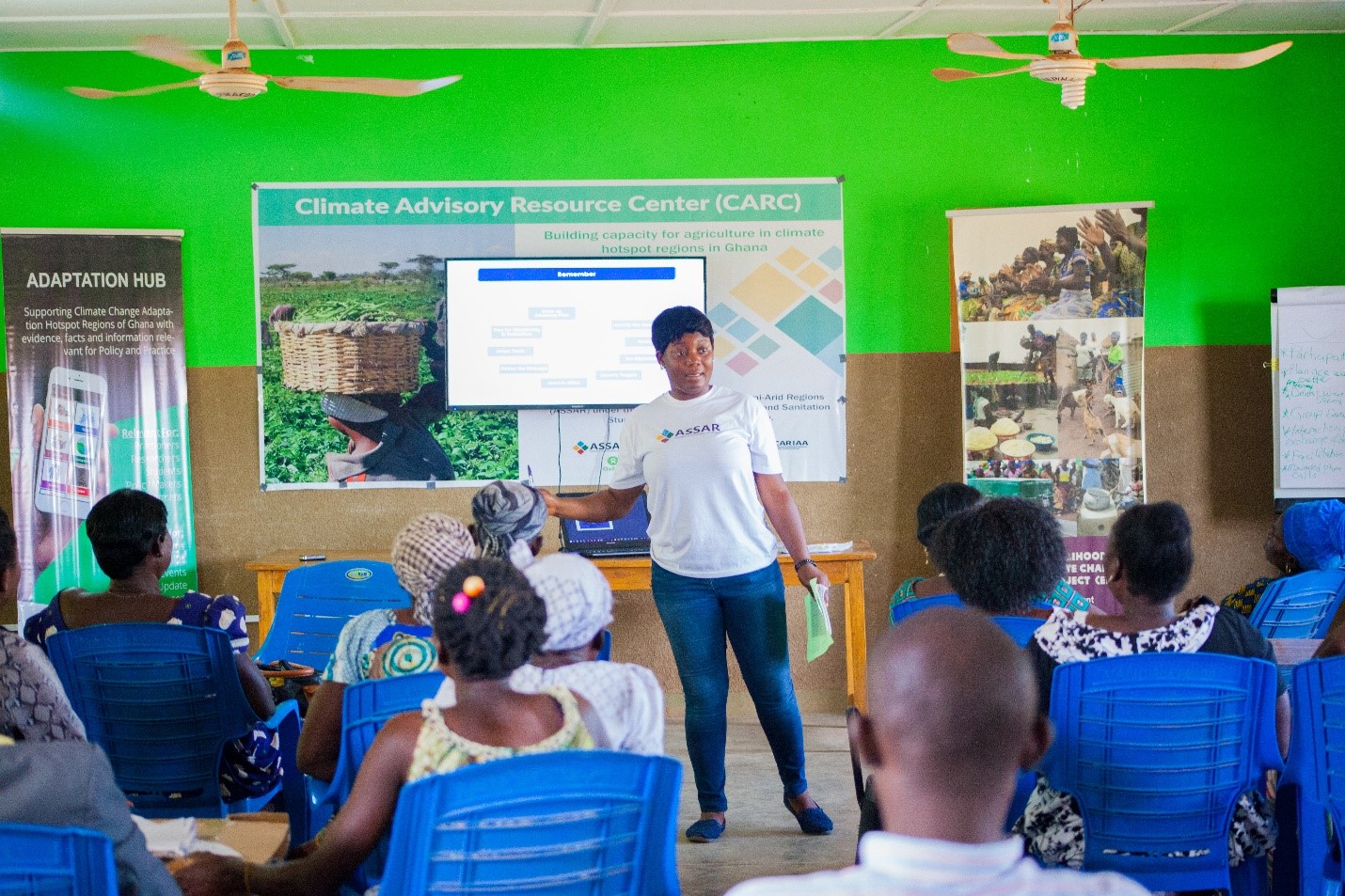 Rahina Sidiki Alare presenting to the women leaders.
As a follow-up, a second workshop was held from 7-8 August 2018, at the Nandom Deanery Integrated Rural Development Programme (NANDRIDEP) Farmers Hall in Nandom, with the specific aim to strengthen the advocacy skills among selected leaders of women self-help groups. Using the three highlighted environmental issues (access to water, access to land and deforestation) facing women, participants developed a problem tree analysis of each issue. This was followed by the listing of advocacy goal(s), objectives and a workplan for the identified issues. Other activities included the development of advocacy messages, introduction of tools and tactics in advocacy, and highlighting the importance of coalition, networks and partnership in advocacy.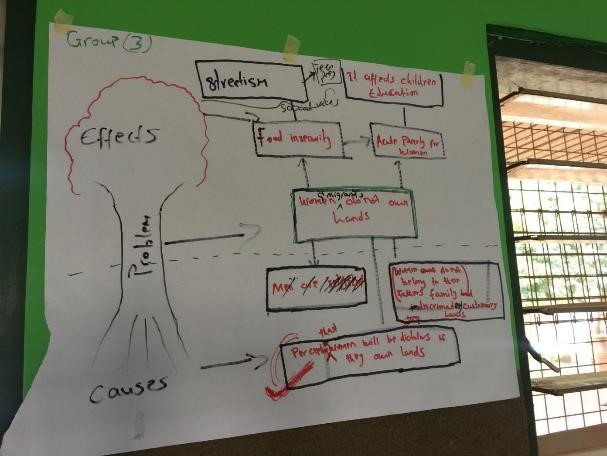 Problem tree analysis of women's access to land.
An additional objective of the workshop was informing participants on how they can access and utilise climate information to enhance their daily activities. As rainfall, temperature and wind are the main climate indicators affecting farmers in semi-arid Ghana, it was essential for farmers and agro processors to pay critical attention to seasonal and daily forecasts from Ghana Meteorological Agency and other institutions, such as ESOKO, extension agents of the Department of Agriculture, and the media. For example, having climate information is necessary for planning when to start farming, the type of seeds and crops to grow. Weather information is also important for fertiliser application and for weeding. Besides farming, other livelihoods such as pito (local malt) brewing and corn dough are also dependent on temperature, as low or high temperatures influence the fermentation process.
Goal and objectives of advocating on women's access to land.
Indigenous knowledge about weather was also noted to be an important source of information in the planning of daily activities. Some of the indigenous knowledge about the onset of rainfall shared by participants included the movement of the clouds towards the east and the amount of heat felt during the day. Other examples included the flowering of some plants, the direction of the wind and the movement of migratory birds, as well as how high they weave their nest on a tree.
Participants building castles using newspapers to demonstrate the importance of partnership in advocacy.
To sustain the momentum of activities of the women-based platforms established in the Nandom and Lawra districts, additional livelihood training materials have been installed on the digital television sets at the advisory centres in both districts, provided by the scenario-based capacity building (SBCB) project. In this regard, the women will be learning about additional livelihoods to diversify their source of income. Additionally, the ASSAR Ghana team is working towards establishing institutional linkages with other organisations, and seeking external funding to support future capacity building opportunities.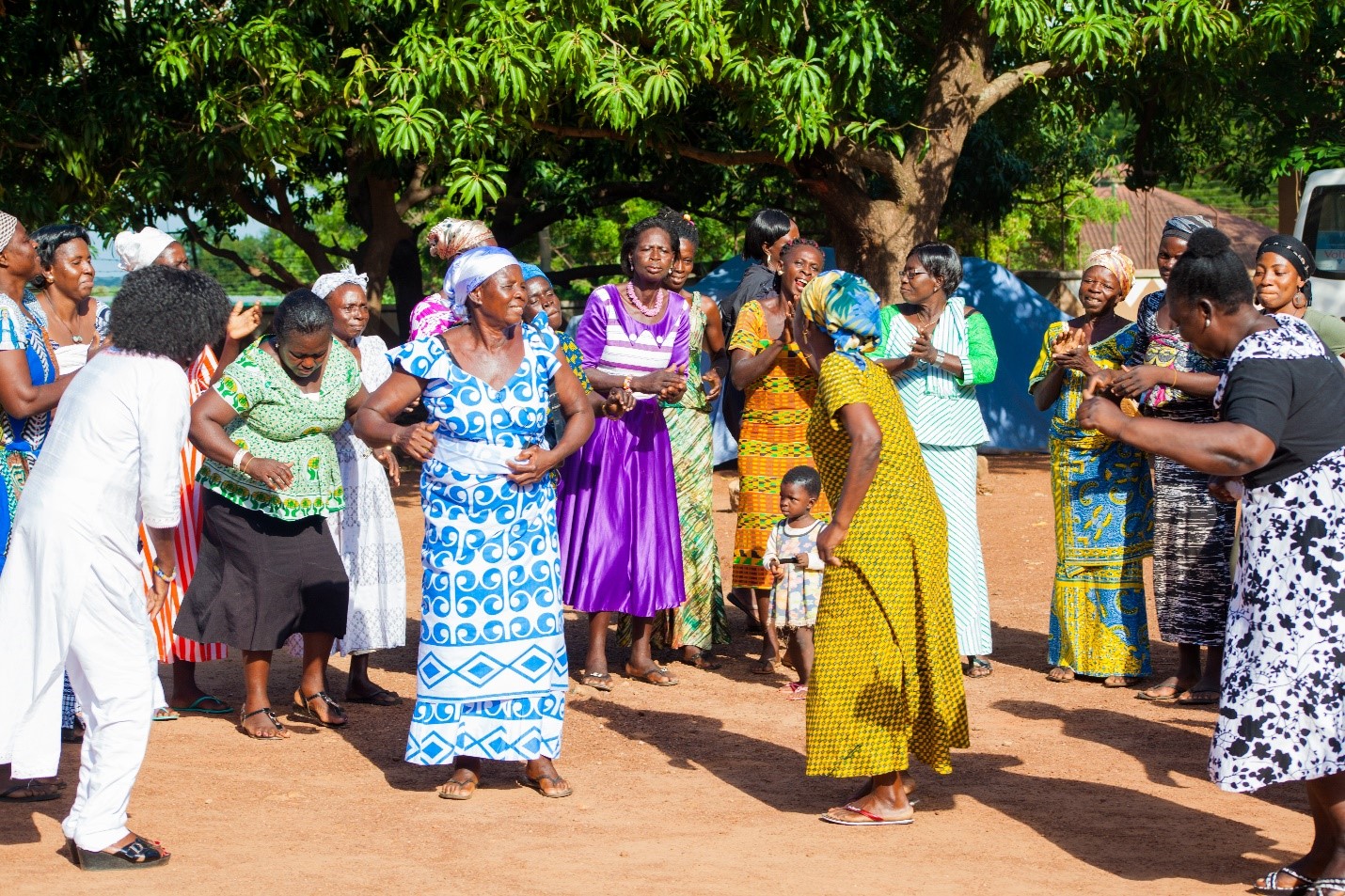 Leaders of stakeholder groups dancing to demonstrate their pleasure about the capacity building programme.
This workshop was funded by an ASSAR Grant for Local Adaptation Support (GLAS) and co-facilitated by Edith Esinam Asamani, a youth development consultant, and Mr Augustine Liebo, Assistant Manager at NANDIRDEP. It is part of a series of ASSAR Ghana's Research into-Use (RiU) activities in response to the adaptation challenges identified in its research activities, and in line with the ASSAR West Africa impact pathway on building skills and capacity of local champions who promote adaptation activities at the local level.
 
Read more:
Women, work and adaptive capacity