A visit of 'firsts': Cape Town and Adaptation Futures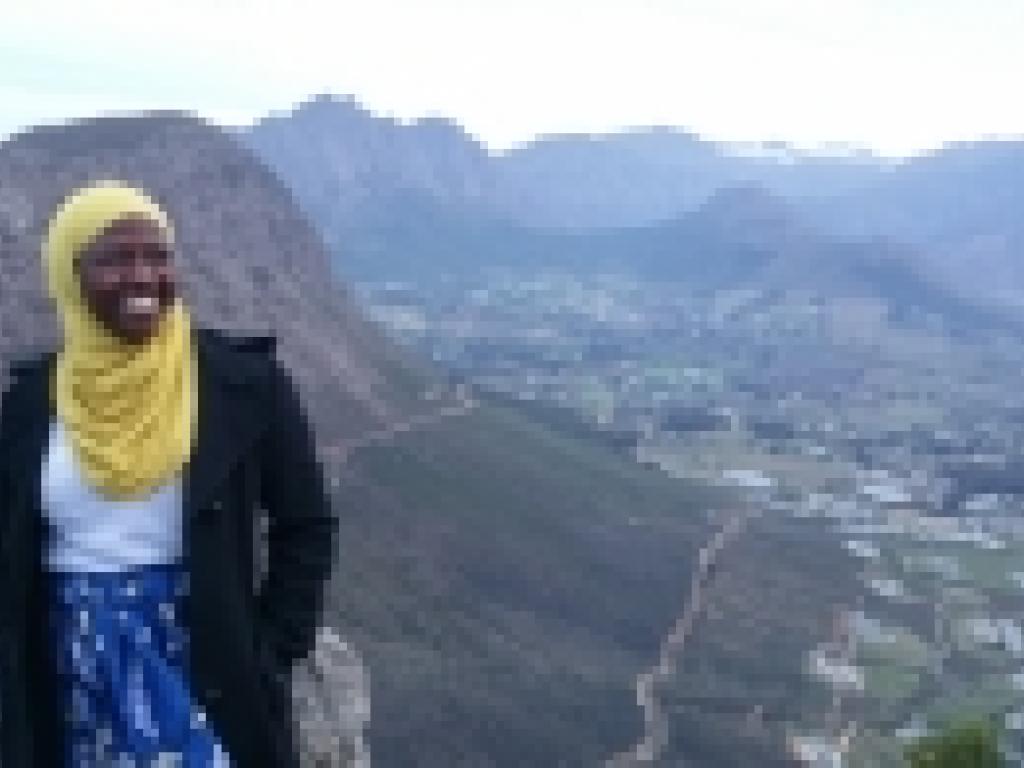 Rabiatu Abass, a University of Ghana student, reflects on her recent visit to Cape Town, her first time in South Africa, where she attended ASSAR's annual meeting and presented her research for the first time at an international conference: Adaptation Futures 2018. 
After a six-hour flight from Accra, I was welcomed by a cold breeze at the Johannesburg airport. Hmmm, I exhaled as I walked through the immigration check-in. I just could not wait to join the next flight to Cape Town. This time, the flight was shorter and I admired the beautiful lighting of the city at night through the small window of the airplane as it landed. I smiled and said to myself, "Cape Town, here I come!" The first Zulu word that I learned on the flight was "Wamkelekile", which means "welcome" in English.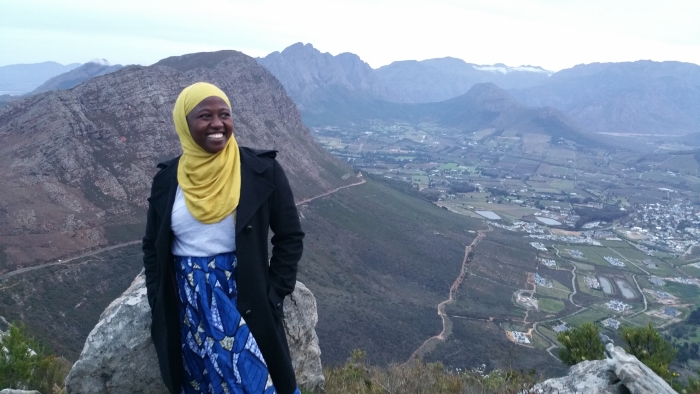 Rabiatu Abass enjoying the beautiful views over Franschhoek Valley on a hike in Mont Rochelle Nature Reserve. (Photo: Prince Ansah)
 
Whilst enjoying the ride from the airport, my eyes became heavier and heavier. Finally, I felt a tap on my shoulder; "we are at the hotel," someone said. Wow, I was fast asleep! Almost all the days that I spent at Franschhoek, where ASSAR's annual meeting took place, followed a similar sequence: moving from the hotel room to the conference rooms for intense plenary sessions, lunch, world cafes and dinner; and repeat.
The many opportunities to interact with senior researchers and practitioners from various fields and universities confirmed my desire to remain in the academia. There was so much high-level thinking that for a moment I wondered, "Huh? Is it going to be like this throughout my stay in the city?"
No way! I was so wrong. The high-level thinking was climaxed with a visit to the informal settlements in Franschhoek, and a beautiful mountain hike. Ha ha! It was exciting, fun and tiring, but "yeah!", I gradually made it to the top of the mountain.
It was another beautiful morning as we travelled back to Cape Town city. It was a lovely drive and the roads were busy. "I am going to love this place," I whispered.
I was so anxious for the first day of the Adaptation Futures conference in Cape Town that I selected the sessions I wanted to attend the previous night already. My hotel was an easy five-minute walk from the Cape Town International Conference Centre. I used my daily walks to view the city and admire it more.
Wow! Over 1000 people of different colours and from different continents attended the conference. I grabbed my name tag after registration and went for the first plenary session. 
And then, D-day finally arrived! It was a Thursday, yes, the day for my poster presentation. I held on tightly to my printed poster as I walked to the conference centre.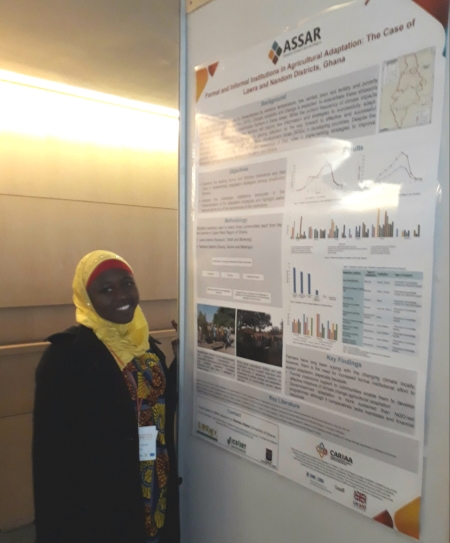 Rabiatu Abass presenting her poster at Adaptation Futures in Cape Town. 

My poster, titled "Formal and Informal Institutions in Agricultural Adaptation: The Case of Lawra and Nandom Districts, Ghana", was based on the results of a comparative analysis I carried out in 2017, which assessed how institutions support the implementation of climate change adaptation strategies in Ghana's Lawra and Nandom districts. I had few people passing by to view my poster so it was also an opportunity for me to get to know the ASSARian whose poster was next to mine.
Most of the conference sessions were very interesting to me and, as a result, it was very difficult to sneak away for some city sightseeing. I didn't think it was possible to come to Cape Town without visiting the Waterfront or Table Mountain, but I missed both. Sadly, there was no extra time and it was time to leave.
As I checked out from the hotel with my luggage and rushed to catch my flight to Accra, I smiled and thought to myself "I have to leave this beautiful city far too soon!" However, my experience in Cape Town was more educational, exciting and memorable than I could have ever imagined.